From design to

testing: torsional vibration dampers, driveshaft couplings and exhaust manifolds.

Patented and awarded.
In-house research and product development are crucial to us.
We can perform reverse engineering or design alternative solutions
Our manufacturing lines run CNC machining, rubber injection,
precision mechanical assembly, welding, balancing.
We have equipped a full-fledged surface treatment
department with automatic lines for grit-blasting,
washing and degreasing, rubber-to-metal bonding
adhesive coating and surface painting.

We validate performance and durability of all CORA parts in our in-house testing laboratories.
Our specialists carry out fatigue, ageing, thermal shock tests on all rubber-metal products and constantly keep under control hysteresis, stiffness, natural frequency and any additional specific properties of the product.








Railway
vehicles


Classic
Cars


Wind
Power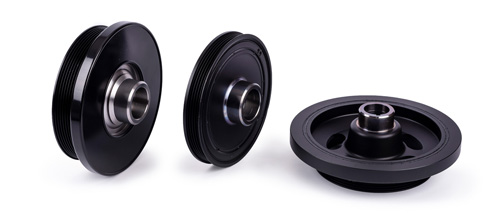 TORSIONAL VIBRATION DAMPERS
Torsional vibration dampers (TVD)
,
double damping system (DDS or decouplers)
and
patented viscous dampers
for passenger cars, commercial vehicle, racing and performance applications and heavy duty.
As a proof of corporate severe quality control process, we test our full range of dampers on their static and dynamic properties.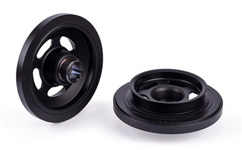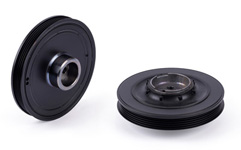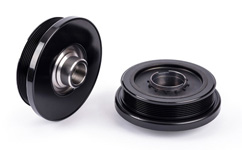 (Double Damping System Dampers)
In VISCOUS dampers, the viscous oil layer placed between inertia ring and pulley body runs the energy dissipation and converts it into heat. This technology can dampen a wide range of crankshaft natural frequencies from different orders.
CORA holds two patents on innovative construction solutions for viscous dampers.
Decouplers are made up of a TVD assembled with
a torsional coupling, so-called "isolator". DDS special design helps to eliminate crankshaft vibrations at low frequency through the crankshaft isolator rubber while the TVD reduces the torsional vibrations at high frequency inside the crankshaft.
TORSIONAL VIBRATION DAMPERS
(TVD)
TORSIONAL VIBRATION DAMPERS (TVD)
reduce torsional vibrations of the crankshaft.
Consequently, there is a significant noise emission
reduction and the life of the engine can increase.
CORA TVDs stand high loads as our premium quality rubber compounds maximize their damping properties.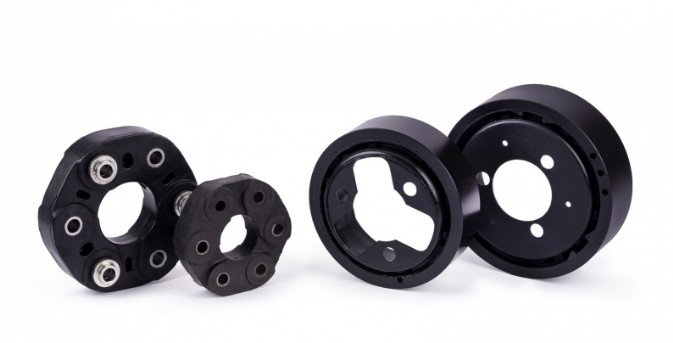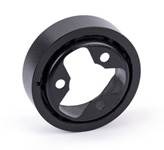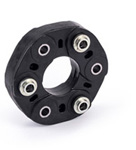 DRIVE SHAFT COUPLINGS AND DAMPERS
DRIVE SHAFT COUPLINGS AND DAMPERS fit on vehicle driveline at gearbox output and their main functions are to:
- transmit torque between the two shafts connected
- absorb torque variations on the transmission
- compensate angular and axial misalignments


Rubber couplings and dampers fit on automotive passenger cars, light vans and off-road vehicles with both rear both four-wheel drive. Besides the automotive industry, we develop couplings for agriculture, marine, industrial, wind energy and customized applications.
The innovative reinforcement of the coupling body is exclusively designed and patented by CORA and won first prize at "27ème Salon International des Inventions – Genève" in 1999.

In 2019, we registered 3 patents on new geometries and innovative compositions of materials that make up the technological heart of our drive shaft couplings.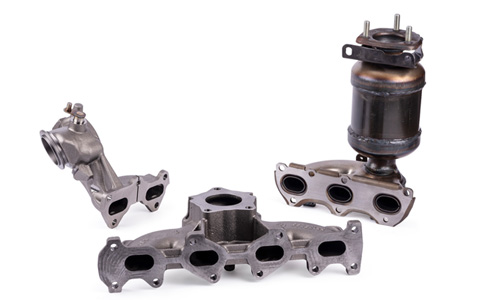 Casting and steel manifolds connect exhaust output from engine head to exhaust pipe channeling the exhaust gases towards the emissions reduction and silencing systems.
We manufacture our products with the highest quality and certified types of cast iron and steel to guarantee the best performance in heat resistance and thermal stock. Our latest range extension is to manifolds specific for turbocharger applications. We provide our quality products complete with fitting kit (gaskets, sealing, fitting studs and nuts) to guarantee the proper assembly and an excellent performance of the exhaust system.
Catalysts design is specific for each application and all our maniverters are ECE 103R type approved according to European emissions standards and regulations.